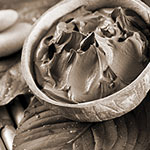 Body Treatments
---
Natural Spa body treatments stand out for the high quality and density of their active principles and for their surprising originality. The treatments were studied for the properties of their ingredients, and offer focused, efficient itineraries using sensorial products such as savonage, sugar peeling, souflète, body & face mask and body butter.
Velvet Skin Treatment


Pleasantly perfumed, this treatment uses a sea salt scrub with shae butter to cleanse and intensely nourish the skin. A soft massage with involving, relaxing massages completes the hydration process and the full relaxation of your body.


30 minutes - 36 euro
Coffee treatment: anti-cellulite and draining


Thanks to the caffeine contained in these products, the treatment stimulates microcirculation, accelerates cell metabolism and favors the natural elimination of toxins. Some of the products used in the treatment are enriched with ebony extract, with astringent, anti-cellulite properties. At the end of the energizing coffee treatment your skin will look younger, smooth and luminous.


Legs and gluteus 30 minutes - 36 euro / Body treatment 60 minutes - 72 euro
Lychee and Goat's Milk: nourishing and calming


This innovative treatment combines the nourishing properties of goat's milk with the high contents of vitamin and minerals of lychee extract. The IRICALMIN complex helps provide relief to skin irritation, while the proteins contained in goat's milk stimulate collagen production and add firmness and elasticity to the skin, At the end of the treatment your skin will look naturally calm, hydrated and nourished.


60 minutes - 72 euro
Relaxing and antioxidant Chocolate Treatment


The main ingredient of this treatment is cocoa butter, rich in iron, magnesium, zinc, calcium and phosphorous. Thanks to their draining effect, chocolate products favor the elimination of fluids trapped in the intracellular space. Chocolate has moisturizing, nourishing and smoothing properties, and, thanks to is theobromine and caffeine contents, it is also a powerful antioxidant, helping in the fight again skin aging. The sweet, intense fragrance of this treatment also stimulates the production of serotonin, the well-being hormone, and of endorphins, the "happiness" hormones.


Back treatment 30 minutes - 36 euro / Body treatment 60 minutes - 72 euro
Kiwi, Mango & Red Grape Treatment: rejuvenating and oxygenating


This treatment contains all the freshness and fragrance of the juice and pulp of fruit ripened in the sun just after picking. The astringent properties of grape extract help fight free radicals, therefore slowing down skin aging, while mango makes skin look naturally healthy and luminous.


60 minutes - 72 euro
Pineapple & Papaya Treatment: regenerating and smoothing


The Pineapple and Papaya treatment is moisturizing and regenerating. Thanks to the pineapple extract, which contains precious elements (oligosaccharides, AHA acids, bromelain and vitamin C), it reduces the thickness of the skin, stimulates cell renewal and collagen synthesis, and reinforces skin structure. This treatment is indicated for all skin types, in particular those in need of regeneration and hydration and for mixed, tired skin.


60 minutes - 72 euro
Green Tea and White Tea Treatment: draining and detoxifying


Green tea has draining properties, helps slow down the accumulation of fatty acids in adipose cells and helps natural fat burning processes. White tea is revitalizing, regenerating and energizing, helps reawaken microcirculation and protect from UV rays and environmental pollution and urban stress.


Legs and gluteus 30 minutes - 36 euro / Body treatment 60 minutes - 72 euro
Spa Packages


For your stay at the Nizza et Suisse - 4 star hotel with wellness center in Montecatini Terme, choose one of our special spa packages ...

ALL PACKAGES
Spa treatments
Massages
Face
Body
Beauty
Short Spa
Grand Hotel Nizza et Suisse ****
Viale Verdi 72, Montecatini Terme (PT) - Italy
phone +39 0572.79691 - fax +39 0572.74324
email info@grandhotelnizza.it


Partita IVA 00953750163

also visit ...
follow us on...